Rebecca Heartt
Tutor
Contact
I am available to return calls and answer e-mail during my office hours; however, students can leave a voice message or send me email anytime.
Education
Biography
I earned my undergraduate degree in 1991 from the University of Alberta, concentrating in the areas of psychology and sociology. With degree in hand, I began to pursue my interests in the helping profession, where first I worked with at-risk teenager and their families. This was both a challenging and rewarding experience.
Wanting to explore other avenues, but continue to help others, I then began working with a variety of differently abled individuals, assisting them in meeting challenges of their own and helping them achieve their personal goals. This sparked in me a desire to learn more about individuals with special needs, and so in 1995 I began my graduate studies in the Master of Education program in the Department of Educational Psychology at the University of Alberta.
It was during the final stages of my Masters Degree that I began working at Athabasca University. My intentions at the time were to complete my degree in order to pursue a career in the private sector. However, my experience at AU enticed me to remain in the public education environment. This worked out great for me because I realized that I truly enjoy teaching at the post-secondary level, and believe that I have found my passion.
It is exciting to see students become comfortable with the methods of teaching and learning at a distance, and be able to use the current technology to facilitate the learning process. One thing I have found through my own experience at AU, is that learning at a distance is not more difficult that learning in a classroom, it is just different. Working at AU has opened up a whole new career perspective for me, one that I hope to explore further.
In addition to my tutoring work, I have been involved in the launching of Athabasca University's new Master of Arts - Integrated Studies program, and have assumed the program administration duties for that centre.
I hope to continue to pursue my own educational studies and some day obtain my Ph.D. For the time being I am going to continue to do something I thoroughly enjoy... working at AU.
I wish you all the best in your course, and hope you find it both challenging and enjoyable!
Rebecca Heartt, M. Ed.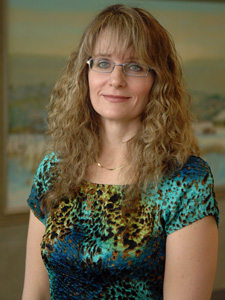 Updated May 01 2015 by Student & Academic Services